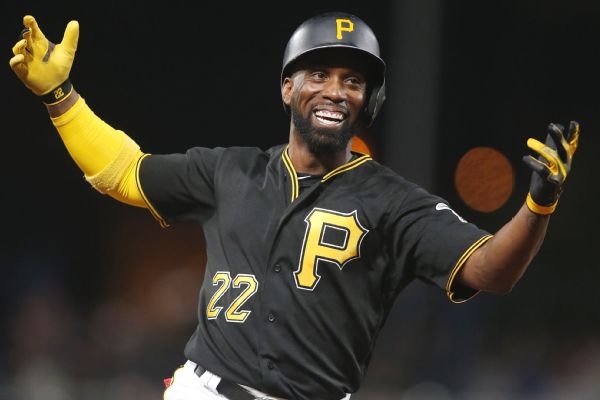 Andrew McCutchen is returning to the Pittsburgh Pirates, it appears.
The 36-year-old McCutchen, who was named the 2013 NL MVP when he was playing in Pittsburgh, has agreed to a contract with the Pirates for the upcoming season, sources have confirmed. The finalization of the deal is pending a physical examination.
A summer of milestones is likely ahead for McCutchen, who needs 52 more hits to achieve 2,000 in his career; eight more doubles to reach 400; 13 more homers to reach 300.
The Pirates drafted McCutchen with the 11th overall pick in 2005, and promoted him to the big leagues in 2009. McCutchen established himself as an impact player almost immediately: In 2011, he was named to the All-Star team, the first of five consecutive seasons in which he earned that honor. In 2014, McCutchen led the league in on-base percentage (.410) and OPS (.952). He won a Gold Glove in 2012 for his defensive work in center field, and finished in the top five in the NL voting every year from 2012-2015.
In 2017, the Pirates shifted McCutchen out of center field, as the up-and-coming Starling Marte began to establish himself in the big leagues, and with McCutchen nearing free agency, the Pirates swapped him to the Giants for outfielder Bryan Reynolds, reliever Kyle Crick and international bonus dollars. Later in the same year, the Giants flipped him to the Yankees. McCutchen has since played for the Phillies and Brewers.
Last year, he batted .237 for Milwaukee, with a .316 on-base percentage.
McCutchen joins the Pirates at a time when the Pittsburgh is listening to offers for Reynolds.
The Pittsburgh Post Gazette was first to report McCutchen's new agreement with the Pirates.