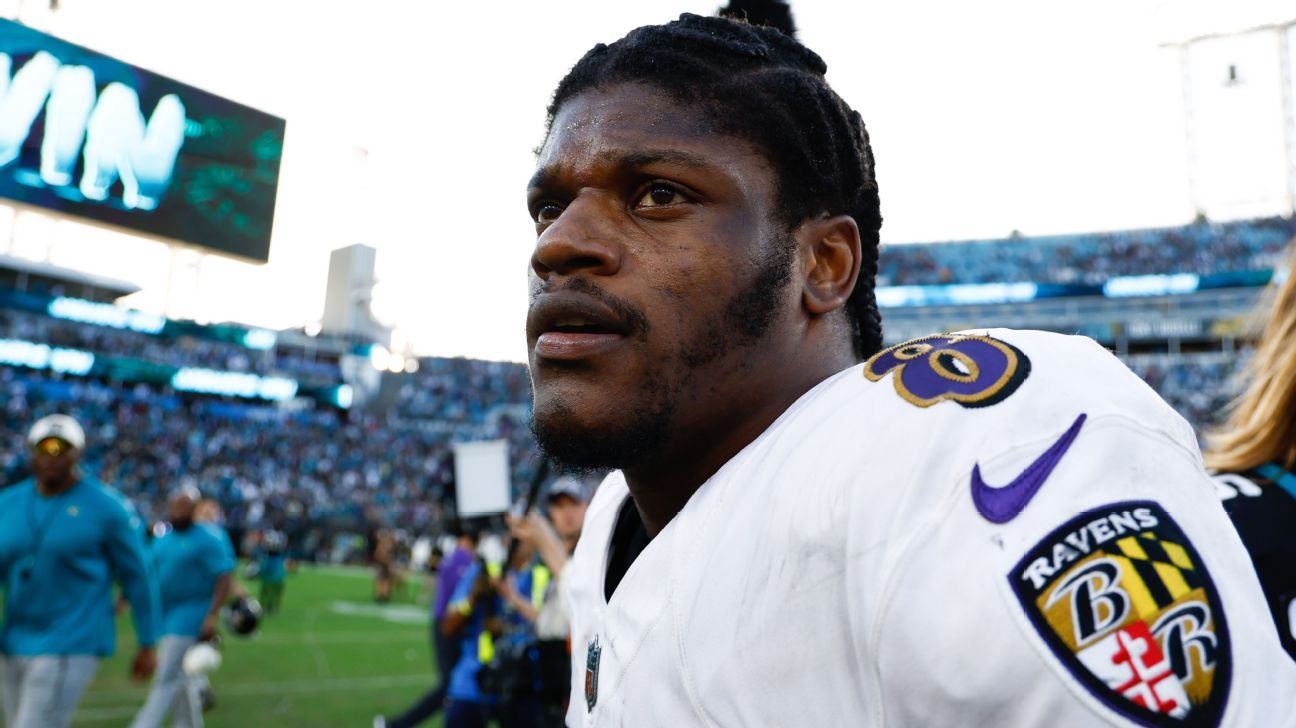 OWINGS MILLS, Md. — The Ravens pushed back on the narrative that Lamar Jackson's future in Baltimore is uncertain, insisting they remain confident they can sign the star quarterback to a long-term deal.
"I truly believe Lamar wants to finish his career in Baltimore," Ravens general manager Eric DeCosta said Thursday in the team's 45-minute, end-of-season news conference.
DeCosta spoke with Jackson on Thursday and began the media session by saying he was excited to restart contract negotiations with the QB. The sides have yet to reach an agreement after two years of contract talks, and negotiations were suspended at the start of the regular season four months ago.
Jackson, 26, finished the fifth-year option of his rookie deal. If no new deal is completed by March, Baltimore will place the franchise tag on Jackson to keep him from becoming an unrestricted free agent.
Ravens coach John Harbaugh also expressed optimism that Baltimore will get a deal completed with Jackson, saying he's keeping "my fingers and toes crossed, and I'll be saying my prayers.
"I have every faith that it's going to get done. Eric wants him here. I want him here. Steve [Bisciotti, Ravens owner] wants him here, and Lamar wants to be here. So, it's going to work out."
Without a new deal, the Ravens can keep Jackson in Baltimore for only two more seasons with the franchise tag.
DeCosta declined to say whether the Ravens would entertain trade offers for him.
"That's not something we're going to talk about at this point," DeCosta said.
Asked if Jackson would be the Ravens' starting quarterback in Week 1 of the 2023 season, DeCosta said, "I don't see any reason why he won't be."
Jackson was unable to finish his second straight season because of injuries. He missed the last six games of this season, including a 24-17 wild-card loss at the Bengals, with a sprained PCL in his left knee.
DeCosta said he doesn't believe Jackson's absence was related to him not having guaranteed money beyond this season.
"Lamar was hurt," DeCosta said. "His unique style as a mobile quarterback and a freaky type of athlete out there on the field, and having a serious knee injury, makes it difficult. I know he was trying to come back."
Harbaugh indicated Jackson would've had a chance to return if the Ravens had advanced farther in the playoffs.
"Lamar planned on being back," Harbaugh said. "He was close."
The Ravens are proceeding as if Jackson is their quarterback. Jackson will have input on the team's next offensive coordinator — Greg Roman stepped down from that post on Thursday after four seasons as playcaller.
Harbaugh also doesn't see a trend after Jackson has been unable to finish the past two seasons because of injuries. He said Jackson got injured on "freaky plays. … He's a very durable player. I know that people might take issue with that," Harbaugh said. "But I don't believe that there's going to be a problem going forward because I know how hard he works."
In other news, Harbaugh spoke with running back J.K. Dobbins, who was upset about getting only 13 carries in Sunday's playoff loss at Cincinnati. Dobbins was frustrated that he didn't get any red zone touches in the second half, including a critical fourth-quarter drive where Tyler Huntley fumbled on a quarterback sneak.
"He made it very clear to me what he meant in terms of the way it came out and where he was coming from in the heat of battle," Harbaugh said. "So, I was real good with that conversation and what he told me."