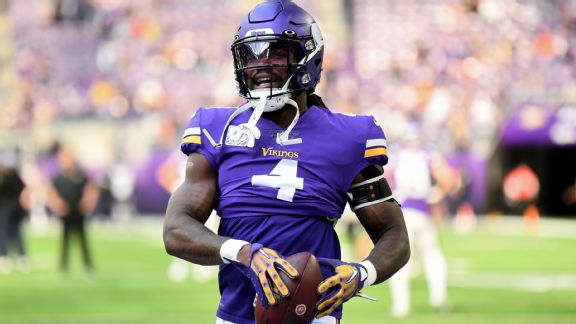 EAGAN, Minn. — Dalvin Cook was beaming earlier this month as he talked about his 2022 season. Not only had the Minnesota Vikings won 13 games and returned to the playoffs, but Cook stayed healthy enough to play in every game for the first time in his career.
His smile faded when a reporter broached his future with the team. Cook deferred to his agent, along with Vikings general manager Kwesi Adofo-Mensah and coach Kevin O'Connell, and said: "That's not my type of question."
Cook's snippy deference was understandable. It's not unthinkable to project the Vikings moving on from him this spring, or at least proposing a significant pay cut — even after he demonstrated new levels of durability this season.
Cook will turn 28 in August, a past-prime age for running backs, and crossed the 1,500 mark for career touches last season. Most notably, he is due $11 million in 2023, the third-most cash on the books for a running back, and is set to count $14.1 million against the Vikings' salary cap.
Asked about Cook and a number of other veterans whose age and contracts make them vulnerable, Adofo-Mensah said: "It's this complex equation we're always trying to solve." He said the team knows that Cook and others "are great football players, great people [and] core foundational elements of our culture." But after making clear that quarterback Kirk Cousins would return as a 2023 starter, he made no such commitment to Cook and the others.
"At the end of the day, we're trying to meet a talent threshold," Adofo-Mensah said, "a way of playing, a vision for this team that's a championship standard. How we get there will look different year in and year out, but we'll consider all those things as we go forward."
Cook rushed for 1,173 yards in 2022, sixth-most in the NFL, and was named to his fourth Pro Bowl as an injury replacement. But keeping an aging running back under a high-end contract wouldn't seem to match Adofo-Mensah's "competitive rebuild," an approach designed to overhaul the roster while keeping the team in annual playoff contention. The Cook conundrum is more complicated than it seems, however, and moving on from him would be more difficult than it sounds.
The Vikings have no obvious replacement under contract for next season, with backup Alexander Mattison a pending free agent, and Cook's unique skill set might not easily be replicated. In his first season with the Vikings, O'Connell was so smitten with Cook as a dual rushing-receiving threat that he left him on the field for 813 snaps in 2022, 27% more than in any other season and 68% more than the average of the previous five years of his career. Mattison got a career-low 89 touches over 17 games, third-string tailback/kick returner Kene Nwangwu played only in mop-up situations, and rookie Ty Chandler essentially took a redshirt season after appearing in only three games.
To move on completely from Cook, the Vikings would have several imperfect options. Would they re-sign Mattison, a younger but less effective version of Cook? Would they seek out a different low-cost veteran free agent to pair with Chandler and/or Nwangwu? Smart NFL thinking nudges teams toward targeting running backs in the draft, but the Vikings are more limited than most, with only four 2023 draft picks in their possession and perhaps one more coming via the compensatory system.
It's also important to understand what we learned about O'Connell's offensive philosophy in 2022, and what it means for the running game. The Vikings averaged 42.9 dropbacks per game, the most for a Minnesota team since at least 2000, and their average of 23.7 rushes per game was the third-lowest over the same span.
That ratio was due in part to the number of close games and fourth-quarter deficits the Vikings faced, but it also reflected a recognition that their strength was the connection of Cousins and All-Pro receiver Justin Jefferson. Cook ran a career-high 367 receiving routes, 43% more than in any other season, and made one of the team's most difficult catches of the season on a 12-yard scoring strike against Washington in Week 9.
Our RB would be your WR1.@dalvincook

📺: @NFLonFOX pic.twitter.com/Y4RiFRUMx7

— Minnesota Vikings (@Vikings) November 6, 2022
Overall, however, he finished with an average of 17.8 touches and 86 yards from scrimmage per game — both the lowest since he became a full-time player in 2019.
That leaves Adofo-Mensah to analyze how much to value a running back in O'Connell's scheme. It's worth noting that the Los Angeles Rams, for whom O'Connell worked two seasons before the Vikings hired him, devoted 2.9% of their salary cap to the position in 2020, 4.7% in 2021 and a league-low 1.56% in 2022. With Cook on their books this season, the Vikings used 10.2%, second-highest in the league.
Just as complicated are future projections of Cook's health, availability and explosiveness. Cook missed most of his rookie season with a torn ACL, and a chronic shoulder injury has limited him in other seasons. But he stayed in the lineup this season after suffering a subluxed shoulder in Week 3 against the Detroit Lions, a development he attributed to the Vikings' new medical team headed by executive director of player health and performance Tyler Williams.
"That's always been my goal, just to finish with these guys," Cook said. "A lot of games that I didn't finish a few years ago. It was just on your conscience that I could've helped these guys win a game, I could've been out there, helped us win a game. Being available all year for these guys, that means a lot to me."
Projecting Cook's effectiveness is also a complicated task. On the one hand, he knocked off two of the six longest runs of his career in 2022: a 53-yard score in Week 6 against the Miami Dolphins and an 81-yard touchdown in Week 10 against the Buffalo Bills. On the latter, he recorded a top speed of 21.68 mph, according to NFL Next Gen Stats, the seventh-fastest speed recorded for any ball carrier in 2022.
On the other hand, Cook led the NFL with 62 rushes of zero or negative yards, nearly a quarter of his total carries. It will be up to Adofo-Mensah to determine if that was because he was slower to hit the hole, if his explosiveness has faded, or if the Vikings' offensive line and scheme were largely to blame. Anecdotally, he faced numerous instances of backfield penetration, and first contact with a defender came after 2.8 yards on average — the lowest mark of his career.
In 2022, only three running backs rushed for more than 500 yards after they turned 28: the Denver Broncos' Latavius Murray (33), the Dolphins' Raheem Mostert (30) and the Tennessee Titans' Derrick Henry (29). Cook's career in Minnesota is likely close to its ending, but it's an open question whether it will come before next season.