Evil Dead Rise Stars Were 'Pushed To The Absolute Edge' But Still Had A Bloody Good Time [Exclusive Interview]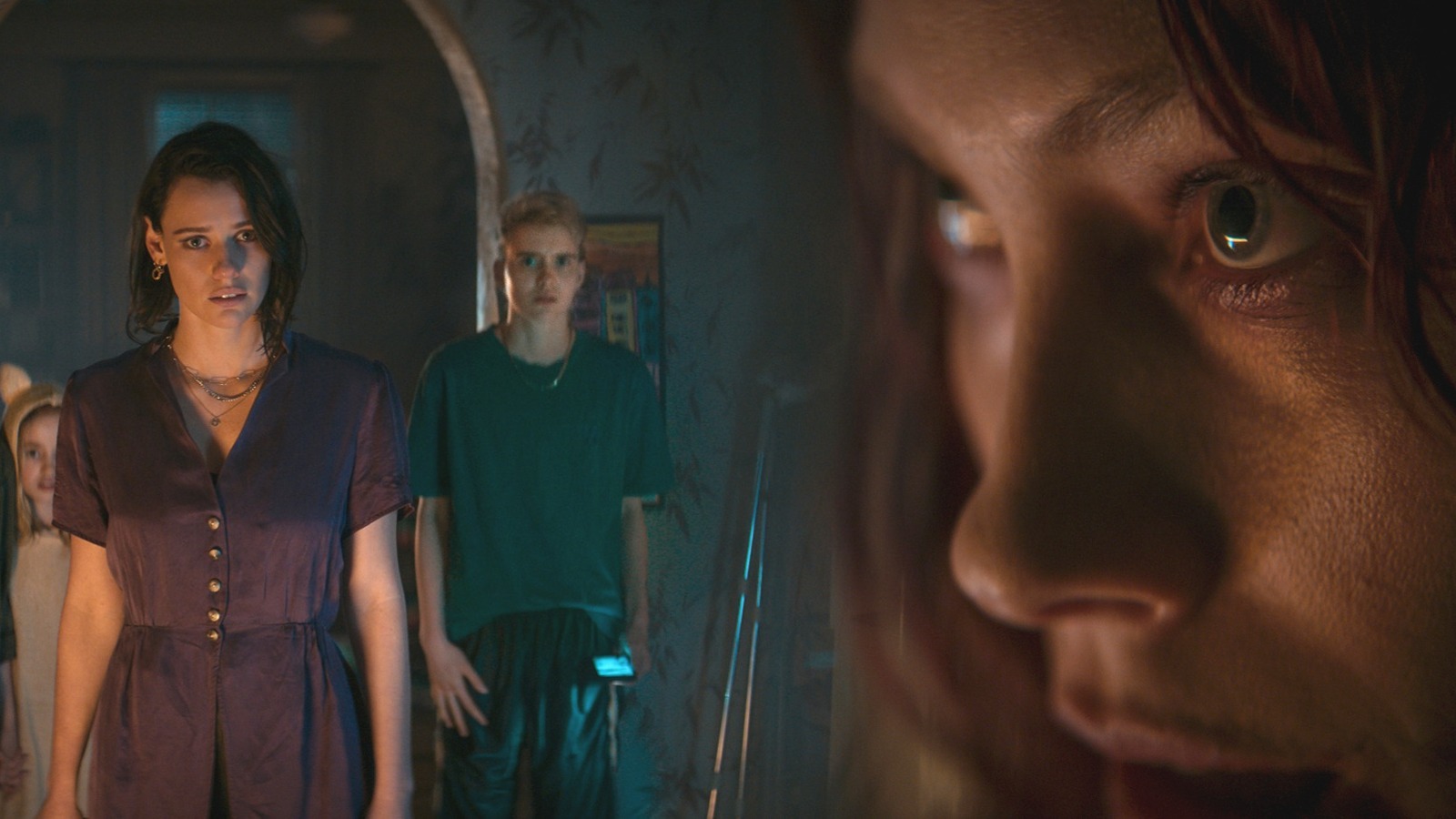 Alyssa, for you, I don't want to spoil anything for people, but there's a brutal physicality to what you were doing. How much of that was aided by digital effects and post-production? Or how much of that was you just suffering for the art?
Sutherland: I don't think there were really digital effects.
It seemed very minimal to me.
Sullivan: So minimal.
Sullivan: Even the crawling on the wall from behind…
Sutherland: That was all real.
Sullivan: That was all real.
Sutherland: It wasn't me. That was an incredible stunt double. They wouldn't let me [do it]. I wanted to try to do that. But I think they were basically like, "We don't have the time for you to learn this." I really wanted to give it a go. The producers were like, "No, your stunt double's going to do this one because…"
Sullivan: She's trained her whole life for it.
Sutherland: "We don't have the time. She's already got this one nailed." Okay, fine. There's no digital. The only digital thing I can think of is they slightly altered my eyes so that I didn't have to wear contact lenses throughout filming. But everything else is practical. So there's a mix of stunt doubles, but the Deadite movement, I worked really hard on. All that twitchy weirdness. Lee was really funny — before takes, he'd yell out, "Twitchy, twitchy, twitchy! Action!"
The Deadite thing is a little specific. It's not quite a zombie.
Sutherland: I didn't want to go zombie. You want to make it your own, so it's an organic-feeling thing. The twitching thing kind of happened. I had a few different references as some dance stuff. Then you have to let all of that go and just let it flow.
This is more or less, for both of you, your first time in a movie franchise. How does that feel, particularly because it's been away for 10 years as a movie entity? They had "Ash vs Evil Dead" in there, but is there a pressure that comes along with that? Are you just excited about it?
Sullivan: You read Lee Cronin's script. Sam and Bruce just kind of letting him go and letting him rip, and trusting him, I think led to us approaching the script. The way we shot it was in chronological order. It was something about it where you just could free-form with this film and it was like there wasn't enough time to analyze.
Sutherland: Speak for yourself. I overanalyze everything.
Sullivan: Oh, true. I mean, while shooting, though, I feel like it was just such an intense washing machine.
Sutherland: We have different experiences, I think, of the mental and emotional stuff.
Sullivan: Very true. I'm fight or flight, you're full sadistic.
Sutherland: I oscillated between, "This is amazing, this is so cool, oh my God, how much fun is this?" to I kept saying, "A horror movie is only as good as its monster. A horror movie is only as good as its monster…" [laughs]. Then I would put this huge weight on my shoulders.
Sullivan: Pressure, of course. But also, again, like we said, it's just absolute, absolute joy to be a part of it.
Sutherland: I also think I never once doubted Lee. I put full trust in him because he knows the franchise so well. It was magical from reading his script. I watched his first film "The Hole in the Ground" before I chatted with him about doing "Evil Dead." I loved the performances. I was like, "This is a horror film, but these performances are so grounded," which is the work that I like to do. I was like, "Oh, this guy's amazing. I want to work with him. I want to do this." And I never questioned him or his taste again.