Cobra Kai is reaching its conclusion. The Karate Kid spin-off kicked its way into our hearts and reminded us of why we fell in love with the 80s classic in the first place. The Netflix series (formally a YouTube Original) is returning for its sixth and final season after the legendary battle between Cobra Kai, Eagle Fang, and Miyagi-Do.
As Johnny and Daniel try to move forward, they are constantly haunted by ghosts of their past. Now, they must work together and defeat Cobra Kai once and for all. The final season of Cobra Kai will bring an end to the Miyagiverse in epic fashion. Here's everything you need to know about season 6.
Related: 'Cobra Kai': 10 Episodes That Left Everyone Diving for the Tissue Box
Is Season 6 the Final Season of Cobra Kai?
Cobra Kai was renewed for its sixth season, and the creative team soon released a letter to fans explaining that the next season would be the show's last.
While this may be a bittersweet day for the fandom, the Miyagiverse has never been stronger. This fandom is the BEST on the planet and we hope to be telling more Karate Kid stories with you down the line. Because as we all know, Cobra Kai Never Dies.

In the meantime, strap in for the BIGGEST SEASON OF COBRA KAI YET. And let today be a celebration of all that's come, as well as all that's still left to be told. We couldn't do it without you.

We made it.

Strike First. Strike Hard. No Mercy. — Josh Heald, Jon Hurwitz, Hayden Schlossberg
Does Cobra Kai Season 6 Have a Trailer?
We do not have any new footage of Cobra Kai season 6, but we did get a small teaser in January of this year. The clip doesn't feature any footage from the upcoming season, but it does have an excellent voiceover from Johnny and Daniel.
Does Cobra Kai Season 6 Have a Release Date?
The next season of Cobra Kai has yet to have a release date. The series is set to start production in May of this year, meaning we might get the show in the fall or winter this year at the earliest. As it stands, we should expect a 2024 release for Cobra Kai season 6.
Who Are the Cast of Cobra Kai?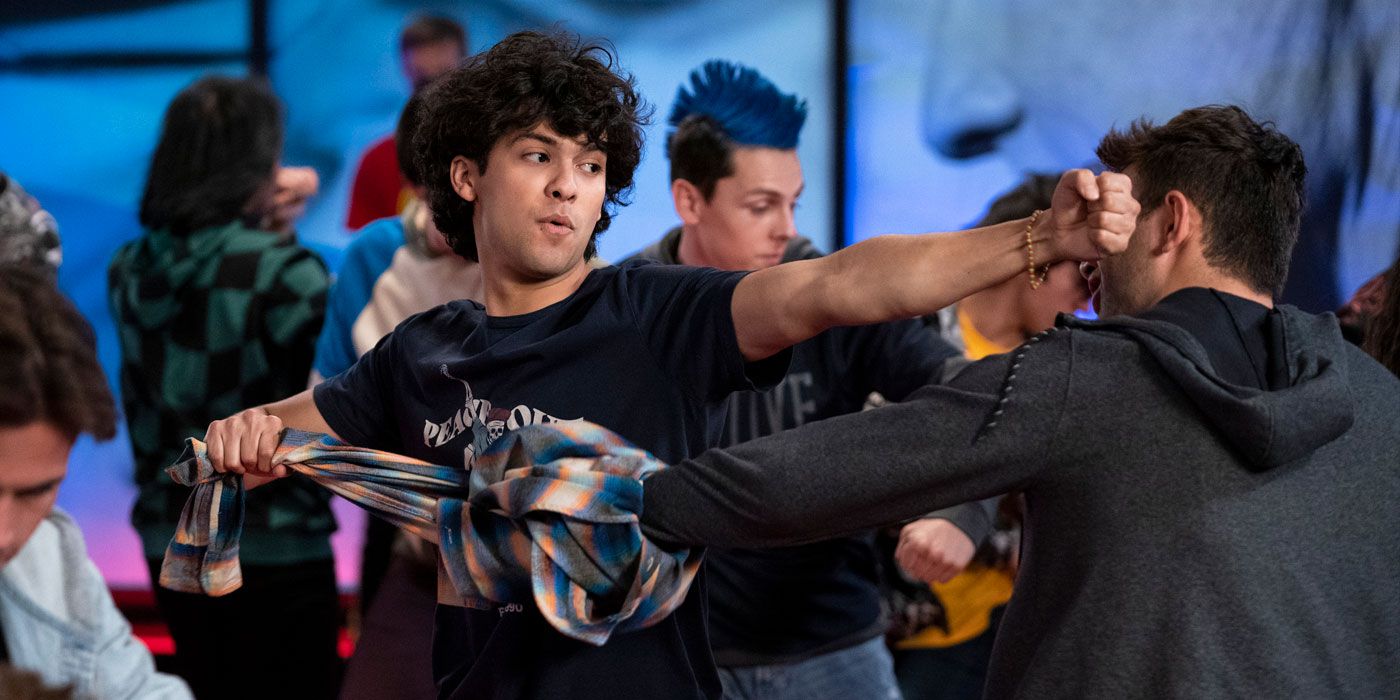 The Cobra Kai cast is one of the most enormous assembled casts ever put on television. It features legacy actors from the Karate Kid movies and a slew of series original characters. The heads of the snake are William Zabka and Ralph Macchio, who reprise their roles as Johnny Lawrence and Daniel LaRusso, respectively. Martin Kove (John Kreese), Thomas Ian Griffith (Terry Silver), Sean Kanan (Mike Barnes), and Yuji Okumoto (Chozen Toguchi) also make their return from The Karate Kid trilogy.
The next generation of karate kids are led by the talented Xolo Maridueña (Miguel Diaz), Mary Mouser (Samantha LaRusso), Tanner Buchanan (Robby Keene), Jacob Bertrand (Eli "Hawk" Moskowitz), Peyton List (Tory Nichols), Gianni DeCenzo (Demetri), Dallas Dupree Young (Kenny Payne), Joe Seo (Kyler Park), and Griffin Santopietro (Anthony LaRusso). Other significant players are Courtney Henggeler (Amanda LaRusso), Vanessa Rubio (Carmen), and Paul Walter Hauser (Stingray).
Related: 'Cobra Kai' Season 6 Should Bring Back Hilary Swank's Julie Pierce
What is Cobra Kai Season 6 About?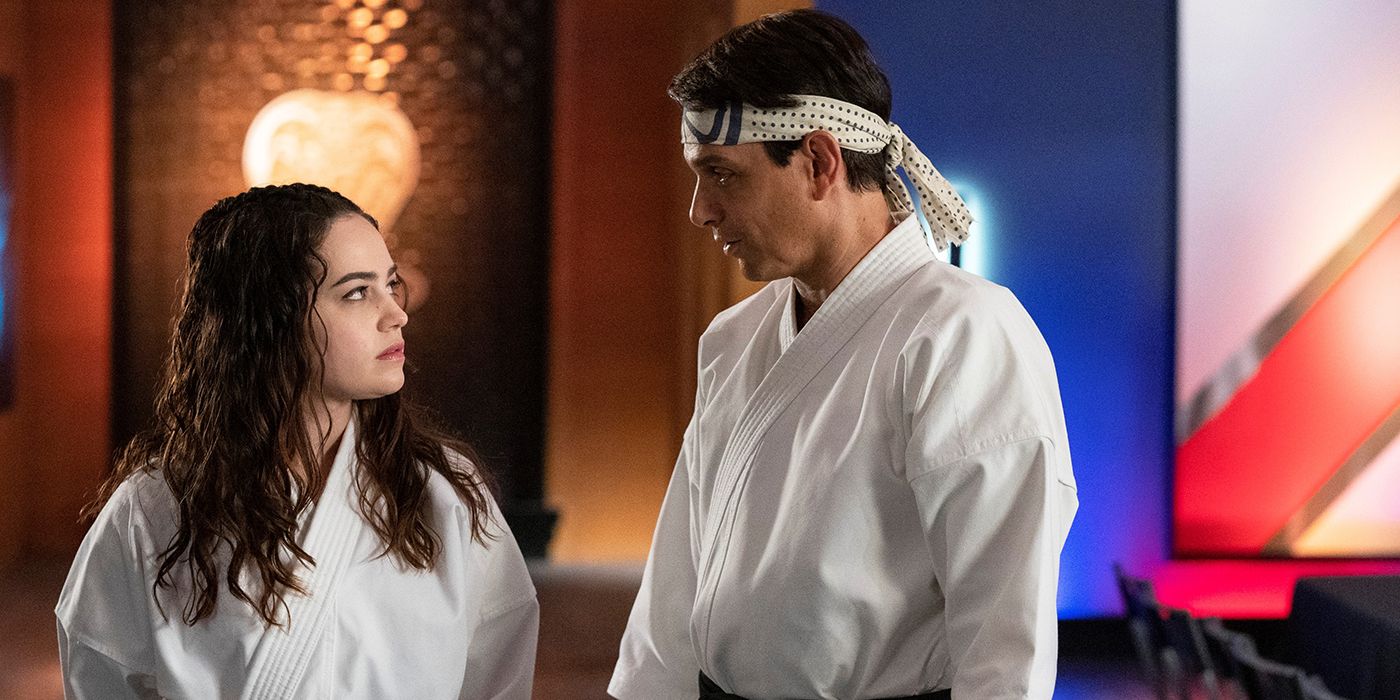 Set after the events of The Karate Kid trilogy, Cobra Kai follows Johnny Lawrence as he tries to turn his life around. To do so, he returns to his roots and trains Miguel Diaz, the first student in the new Cobra Kai. The return of Cobra Kai ignites a fire under Daniel, as his high school bully and a source of his trauma have come back to haunt him, leading to him starting his own dojo.
Five seasons later, Daniel and Johnny put aside their differences to take down the revamped Cobra Kai under Terry Silver. After defeating Silver, LaRusso and Lawrence's dojo will compete in the Sekai Taikai, the pinnacle of competitive karate. There is a power vacuum now that Silver is gone. With Kreese out of prison, Mike Barnes in the fold, and sensei Kim (Alicia Hannah-Kim) now the de facto leader of Cobra Kai, things are sure to get tense.
The final season of Cobra Kia a many plot lines to wrap up. Johnny and Carmen are expecting a baby, Robby is still trying to help Kenny, and Miyagi-Do and Eagle Fang are entering the biggest karate tournament in the world. There's a lot to cover, but this wouldn't be the first time the series had to juggle multiple storylines. Here's hoping the show sticks the landing.
Is Julie Pierce Returning?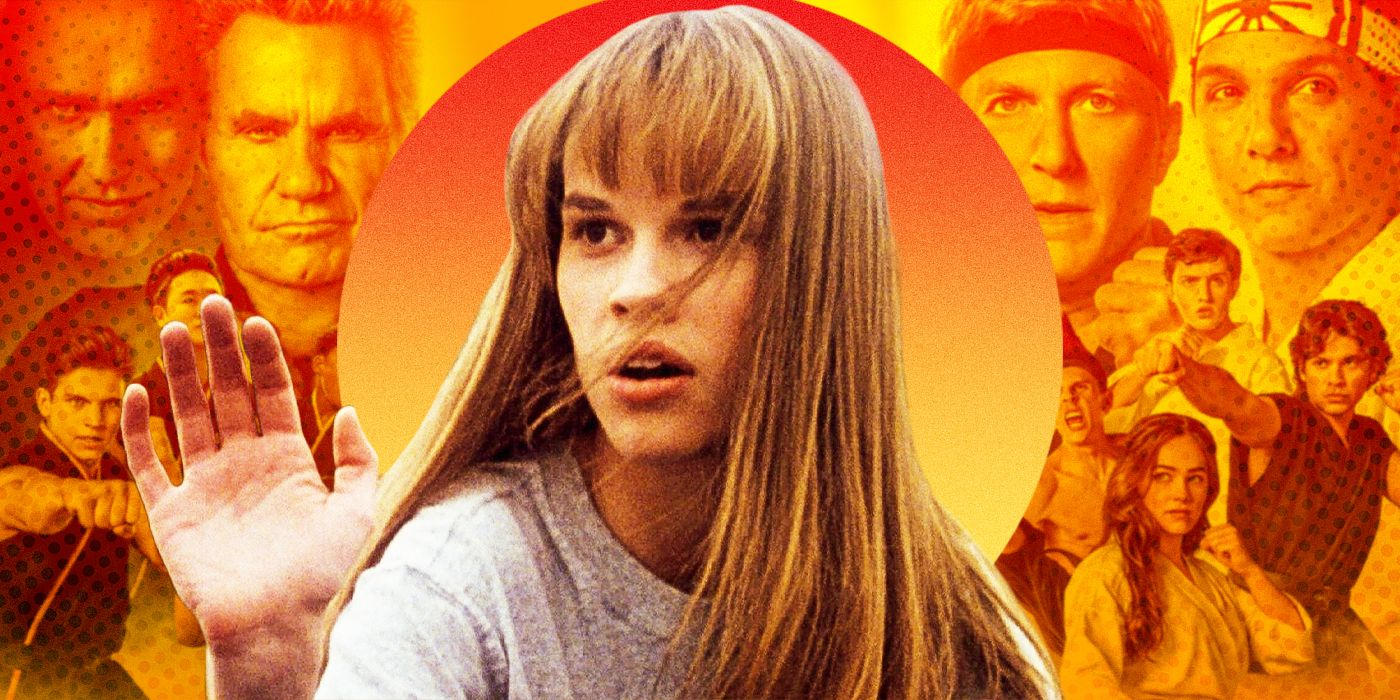 Fans have been clamoring for an appearance of Julie Pierce in the Netflix series. Played by academy award-winning actress Hilary Swank, Pierce was Miyagi's second student after Daniel. The Next Karate Kid might not be as well regarded as the first film, but it has a passionate cult following. Sadly, we have no word on if Swank is returning to the franchise, but with the series going global, now is the perfect time for her to appear at the Sekai Taikai.
What's Next for The Karate Kid Franchise?
The Karate Kid Trilogy, The Next Karate Kid, and Cobra Kai have brought joy to fans for decades. With Cobra Kai reaching its conclusion, many fans have been wondering what comes next. Well, co-creator Hayden Schlossberg spoke to GamesRader+ about this.
We do have a place where it's all going, but that doesn't mean the world has to stop there. We have lots of ideas of continuing [the universe] and keeping the Karate Kid vibes going through other stories and other shows and different formats for that.
While we don't have any official confirmation of a spin-off or sequel series from Netflix, it's good to know that the creators still have plenty of stories they want to tell. Hopefully, those plans will come to fruition.
The future of this iteration of the Miyagiverse might be in question, but that doesn't mean this is the end of The Karate Kid as a franchise. It was announced that a reboot of The Karate Kid will hit theaters on June 7, 2024. This isn't the first time the franchise was rebooted. The Karate Kid (2010) was the first attempt to restart the franchise and starred Jaden Smith and Jackie Chan. Notably, the film didn't feature any karate and instead focused on kung fu. We should be getting more information on the new Karate Kid film in the coming months.