Editor's Note: The following contains spoilers from Season 4 Episode 4 of Succession.The shocking mid-flight death of Logan Roy (Brian Cox) immediately had a seismic impact on the pop culture landscape in a way that HBO hasn't seen since the controversial Game of Thrones finale; what's interesting is that for as much attention that "Connor's Wedding" had on the television fan circles, it's even more important in the Succession universe. What does the death of one of mainstream media's critical titans mean for the future of the industry, and how will any new CEO live up to the impressive (yet controversial) mold that Logan established? Unsurprisingly, it's a question that draws a lot of eyeballs, which means characters from all sides of Succession's cast of characters return to get a little insight on what's going on behind closed doors. The return of Stewy Hosseini (Arian Moayed) serves as a reminder that Kendall (Jeremy Strong) continues to be close with his frequent rival.
Kendall and Stewys' Storied History
Outside of being perhaps the only Succession character whose insults rival Roman's (Kieran Culkin), Stewy has been described by Kendall as his "third oldest friend." An old buddy from Buckley School and Harvard University, Stewy was able to connect with Kendall over their shared ambitions for media acquisitions, but it was also a period of time in which they were both heavily involved in cocaine. Stewy ultimately chose to partner with Sandy Furness (Larry Pine) and his daughter Sandi (Hope Davis) and has betrayed Kendall on more than one occasion. It's somewhat ironic that Stewy returns to become Kendall's supporter, and in a powerful moment, the shoulder for him to cry on.
None of the relationships in Succession are simple. Characters express their grief, anger, confusion, and frustration in ways that may seem unusual, and some of the oddest relationships on the show have emerged between characters that initially we may have never expected to be so close; would anyone have guessed back in Season 1 how Roman's fascination with Gerri Kellman (J. Cameron-Smith) would develop, or the odd bromance between Greg (Nicholas Braun) and Tom (Matthew McFayden) would emerge? While Stewy has the potential to be Kendall's secret weapon in leading the company to success, he also could be the architect of his downfall.
Stewy Has Betrayed Kendall Previously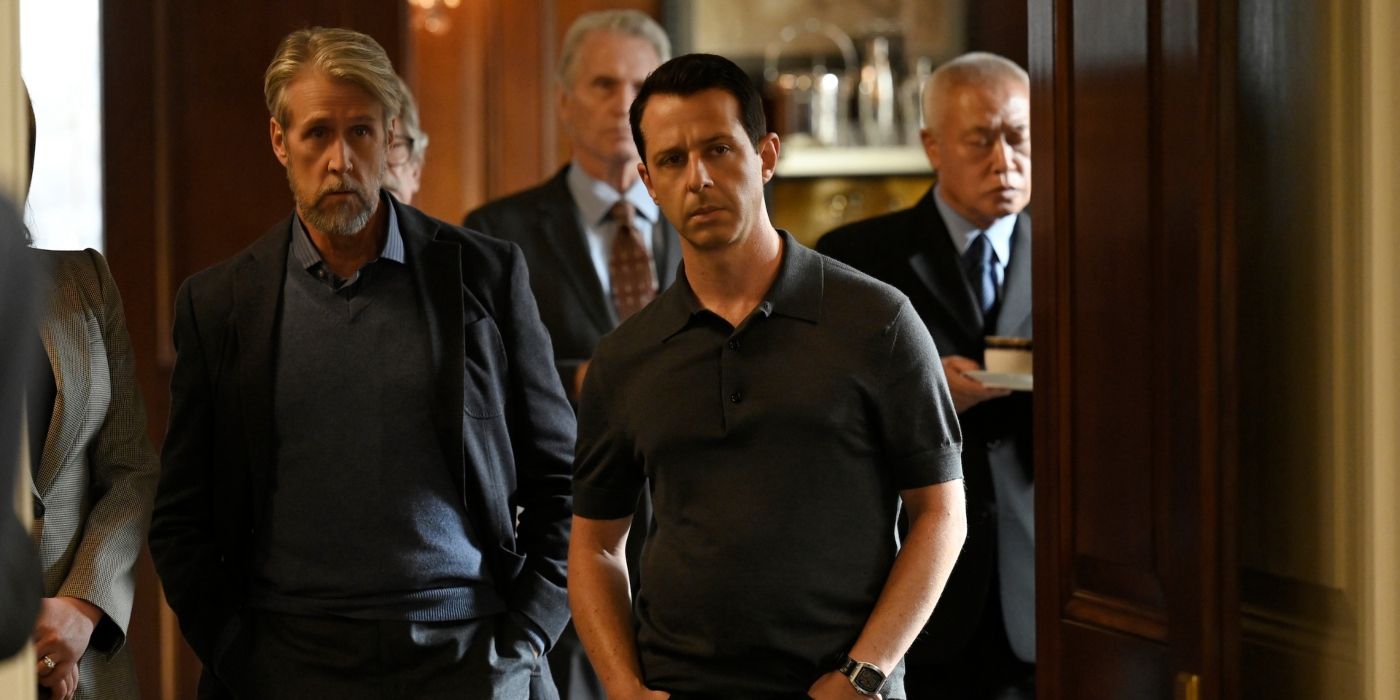 While Stewy and Kendall are both in a position to benefit from the Waystar changes, it's Stewy who is able to walk away with his hands clean every time. Stewy had helped Kendall during his initial attempt to forcefully seize control of the company, but following his failure, Kendall saw no support from his longtime friend. This became even more difficult to stomach when Stewy returned to add insult to injury by disparaging the Roy family in the media cycle and calling out the scandals on the cruise lines. While it may seem odd that Kendall would see him as someone he could relate to in a time of crisis, he's had fraught interactions with nearly every person that he's close to. Even if he, Shiv, and Roman have often been at each other's throats, they nonetheless share in their mutual grief.
It goes to show what an incredible actor Strong is during his reunion scene with Stewy; going from peak confidence to complete vulnerability is truly remarkable to do so quickly, but Strong proves once again why he's mastered this character. Initially, it appears that Stewy is there as a formality, as he and Sandy both want to pay their respects before getting the latest insights on Waystar's new leadership. Stewy and Kendall go back to insulting each other with the same tenacity, but there's a softness to them both that opens up when Kendall cries on his old friend's shoulder. Perhaps there's a vulnerability that Kendall has been hiding from his siblings in order to empower them, and Stewy is the closest thing he has to a peer, despite their ups and downs.
RELATED: 'Succession' Might Not Be Relatable, but "Connor's Wedding" Is
Stewy Is An Important Ally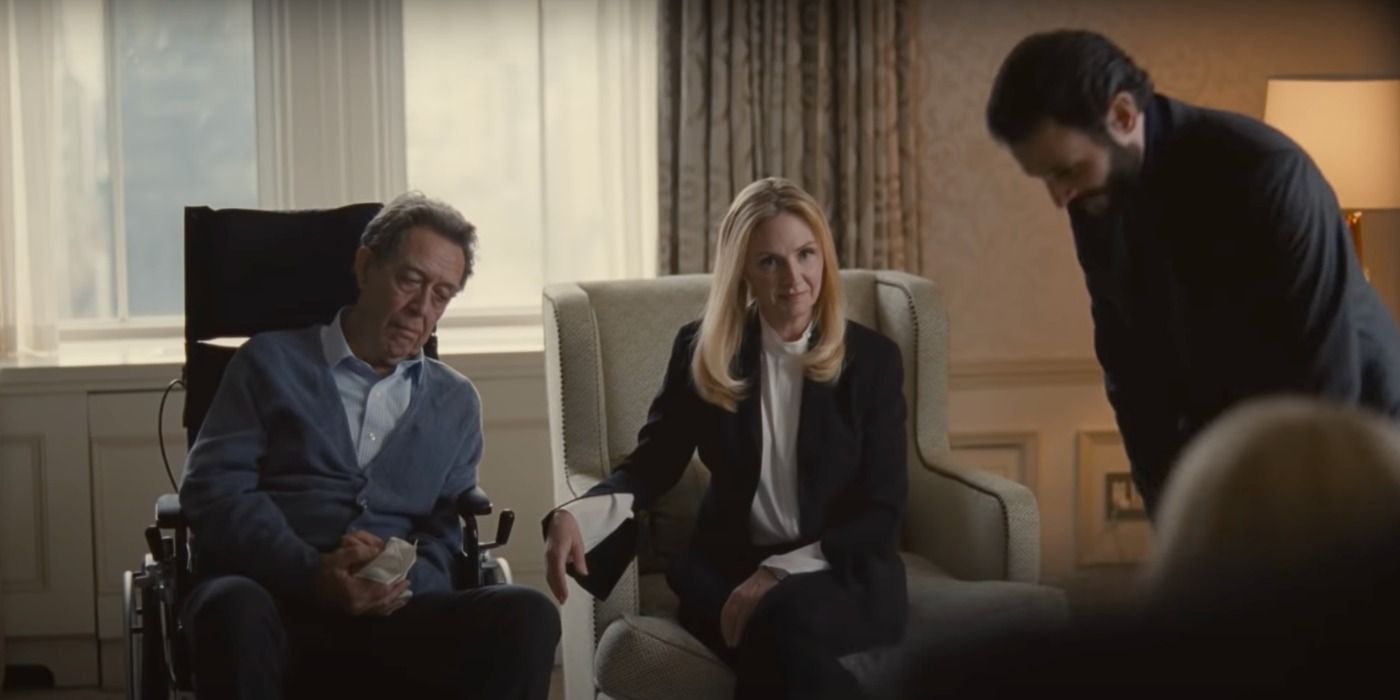 Stewy also has the potential to be Kendall's secret weapon in succeeding as a CEO. Even if Kendall seemingly has a mutual agreement with Shiv and Roman to share power, their conversations right before the critical announcement suggest that they are all unclear of where their loyalties lie exactly. Shiv is pregnant and in a more agitated state after being ignored in the announcement, and Roman seems to think that his close personal connection with Logan gives him leverage. Having a powerful backer on the board is something that Kendall really needs, and Stewy holds a lot of sway that could draw more support to Kendall's plans for the future of Waystar and its evolution. Stewy's criticisms of Logan in the past reinforce the idea that Waystar is going to move on from Logan's complicated legacy and attempt to succeed as a modern media tycoon.
While there's always the possibility that Stewy could end up betraying or backing out of Kendall's inner circle if conditions change, the trust that he shows signifies that something is different. Perhaps Kendall is just always susceptible to Stewy's charisma and is simply making the misguided decision to trust him, but Stewy doesn't appear to have anything openly deceitful in mind quite yet. He's invited to join the meeting among the top staffers over the final decisions before the announcement, and it's an honor that he seemingly gives due respect. Kendall even solidifies his importance in the negotiations and uses Stewy's endorsement to solidify his claim.
Perhaps Kendall's openness around Stewy shows a newfound confidence on his part; he knows that Stewy would only betray him if he didn't have what it takes to lead the company. He knows that his father has had to make peace with rivals in the past, and Kendall shows the same maturity in adding Stewy in the desperate bid for allies. Roman has lost any affinity with Gerri, and Shiv's marriage with Tom has collapsed; they'll both need to get some backers for their causes if they want to wrestle Kendall away from making any critical decisions on his own.