Along with the animated Lower Decks, Star Trek: Strange New Worlds represents the best of the new crop of Trek series, receiving much praise upon its debut for its return to classic Star Trek episodic storytelling. Even the opening credits are a tribute to the iconic opening credits sequence for The Original Series (TOS), showing the USS Enterprise soaring through space, past asteroid belts and clouds of interstellar dust as it searches for the titular new worlds. We're about to get even more of that classic Trek goodness, judging by the first extended teaser.
(Spoilers for the first season below.)
The series features classic TOS characters Capt. Christopher Pike (Anson Mount), Number One (Rebecca Romijn), and Spock (Ethan Peck). Babs Olusanmokun plays Dr. M'Benga; Celia Rose Gooding has the unenviable task of filling Nichelle Nichols' shoes as Cadet Nyota Uhura; Jess Bush plays Nurse Christine Chapel; Melissa Navia plays Lt. Erica Ortegas; and Christina Chong plays La'An Noonien-Singh (a relation of the classic revenge-obsessed Star Trek villain Khan).
Alas, we bid farewell in the penultimate S1 episode to chief engineer Hemmer (Bruce Orak), an Aenar, aka an albino subspecies of Andorians that are generally depicted as blind. When an infection of Gorn eggs hit the ship, Hemmer helped fight the spread, only to become infected. When he sacrificed himself by drifting off into space and perishing along with the Gorn eggs he carried inside, there wasn't a dry eye in millions of homes around the world. And the S1 finale gave us a bona fide cliffhanger when Number One was arrested for being a genetically modified Illyrian.
That means the Enterprise is getting a new chief engineer for S2: Pelia, played by the legendary Carol Kane. (The showrunners decided it was too soon to introduce classic TOS character Montgomery Scott, originally played by James Doohan, even though the character briefly appeared in a potential future in the S1 finale.) Paul Wesley will reprise his role as a young James T. Kirk, and Dan Jeannotte will guest star as Sam Kirk. Showrunner Alonso Myers has said that the resolution to Number One's arrest will be a "straight-down-the-middle classic Trek episode," and that the second season would also pick up the serialized thread of Singh's leave of absence.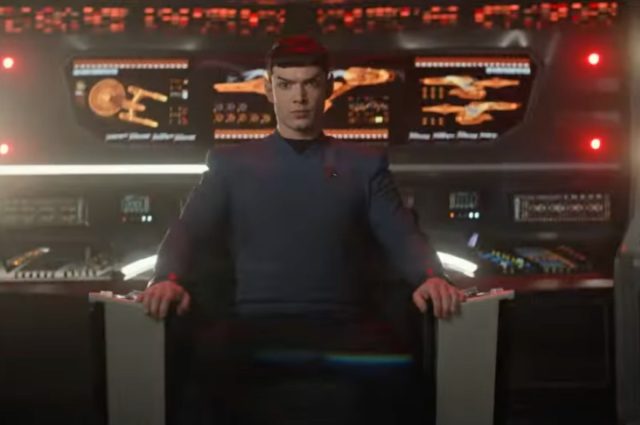 Best of all, we're getting a crossover episode with Lower Decks, with Tawny Newsome and Jack Quaid playing their Lower Decks characters Becket Mariner and Brad Boimler. Yes, part of the crossover episode will be animated in a similar style. Apparently Lower Decks showrunner Mike McMahan (who worked on the S1 Strange New Worlds episode "Spock Amok") worked on this episode, particularly tweaking the dialogue. And none other than Jonathan Frakes (aka Riker) will direct.
The teaser doesn't give much away in terms of plot details, emphasizing instead the diversity and camaraderie of the crew as they embark on adventures and face challenges, both personal and professional. Singh might have some feelings for Kirk. ("You have an energy," Number One observes. "It's making me sweat.") She might be less impressed after watching Kirk struggle with a revolving door on what appears to be Earth. ("I'm from space," he offers in his defense.)
Spock has a drink with Klingons and even gets his moment in the captain's chair, although he struggles to come up with a catchphrase equal to Picard's "Engage!" or Pike's "Hit it." His take is quintessential Spock: "I would like the ship to go. Now." But it's Pike who succinctly sums up what the Enterprise and her crew are all about: "Through great wonders and great danger, the next great Age of Exploration starts with us."
The second season of Star Trek: Strange New Worlds premieres on June 15, 2023, on Paramount+.
Listing image by YouTube/Paramount+