Sasha Colby's 'RuPaul's Drag Race' Win Is Not Only Deserved, It's Important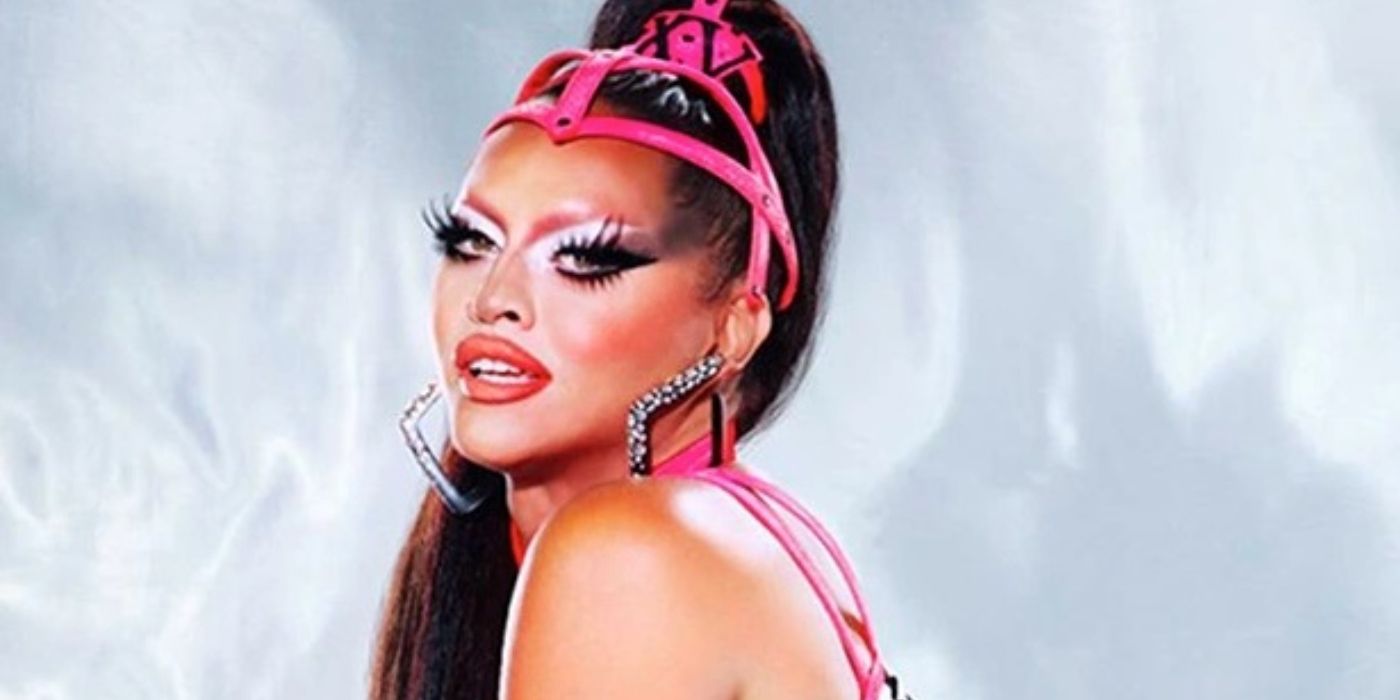 After 15 intense weeks of competition, Season 15 of RuPaul's Drag Race finally picked America's Next Drag Superstar on Friday night when they crowned Sasha Colby. The other three finalists — Anetra, Luxx Noir London, and Mistress Isabelle Brooks — were also phenomenal, and honestly, we kind of wish they all could've won, but this was undoubtedly Sasha's time. Sasha not only had one of the most accomplished Drag Race runs we've seen, but as a trans woman who does drag, her win feels incredibly powerful amidst the ongoing attacks on LGBTQ+ rights across the U.S. that particularly target trans people and drag queens.
Going into the finale, we were already confident in a Sasha victory — when it's right, it's right. But we were still rooting for her all the way, and seeing her in that crown while holding a scepter is definitely one of 2023's most satisfying TV moments so far. In fact, we're pretty sure that if Sasha ever competes on an "all winners" season, she has it on lock (but please don't make us choose between her and Bob the Drag Queen, producers!) Let's take a look back at what makes Sasha one of the best Drag Race winners to date.
RELATED: Jinkx Monsoon and More 'RuPaul's Drag Race' Stars Announce Stand Up Comedy Specials
Sasha Colby Had One of the Most Impressive 'Drag Race' Presentations Ever
Sasha had a near-perfect track record to show for her time on Drag Race, with an astonishing four challenge wins and zero bottom placements, a rare feat for a queen to achieve. We especially loved her winning performance in the "Blame It on the Edit" episode, in which the top four crafted their own verses to the RuPaul song of the same name and performed them in a sci-fi themed music video. Sasha had already set an impossibly high standard for herself, but she didn't disappoint: we'll be singing "dream-chaser, star-maker, game-changer, bank-breaker" for a while yet.
Sasha also had several "high" placements over the course of the season, and killed nearly every challenge, including Drag Race staples such as the Rusical, makeover, talent show and girl groups. When she had to lip sync, it wasn't because she fell into the bottom two, it was as part of the "Lalaparuza" tournament episode. And, of course, she casually gave one of the best lip syncs the show has ever seen, alongside Anetra, to Fifth Harmony's "I'm In Love With a Monster." And how can we not talk about those looks? Sasha expertly blended pageant and fashion in her runway package; her showings on the signature drag, puffa, gloves, and distressed runways were standouts, but she never missed.
Sasha Managed to Exceed Extremely High Expectations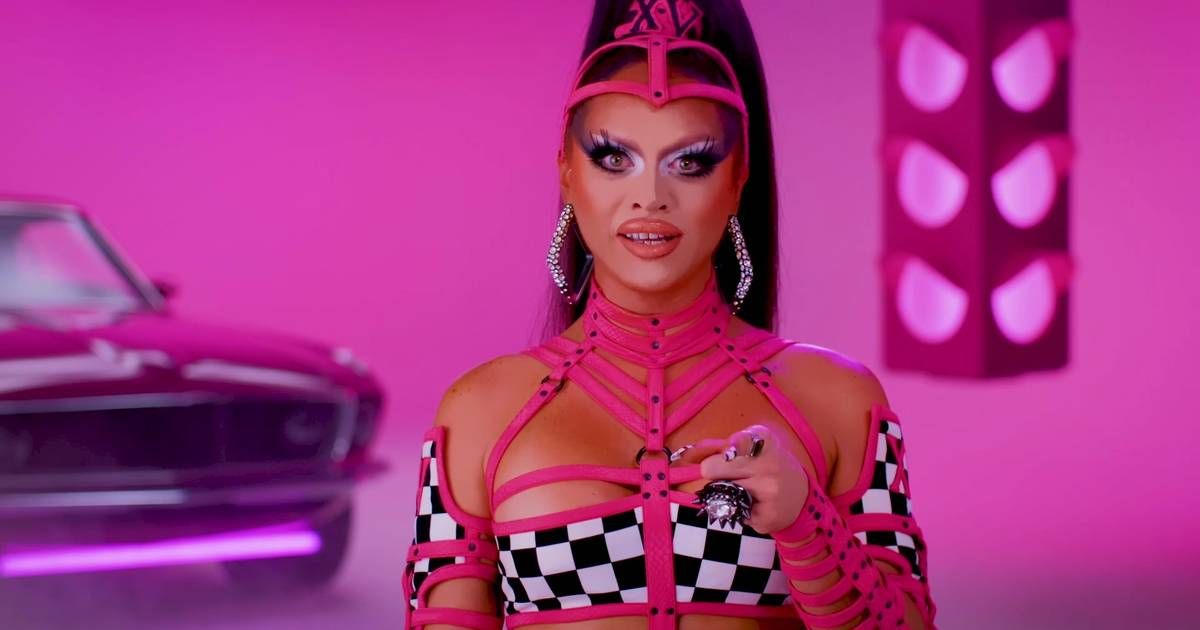 To say that Sasha had a huge reputation coming into Season 15 would be putting it lightly. Prior to Drag Race, she won the Miss Continental pageant in 2012, one of the most prestigious drag competitions in the country. She was the last contestant to enter the Werk Room out of the first group of eight queens in the season's premiere; one of her fellow contenders simply wondered "shall we go home?" upon her arrival, while another described her as a "legend" — a reaction rivaled only by that towards guest judge Ariana Grande. Sasha described herself as "your favorite drag queen's favorite drag queen," and had even been mentioned on the show's previous season several times when her drag daughter, Kerri Colby, competed.
Many people would've crumbled under such an enormous amount of pressure, but Sasha humbly surpassed all expectations. In the show's finale, she delivered a performance for the ages with the original song "Goddess," complete with hair flips, neck cracks, stunts, and a stunning serpentine outfit reveal. A particular highlight of the performance was when her long snake-like braids were pulled away from her head by her backup dancers, producing a visually striking image resembling Medusa — a fitting nod to a mythological figure who was misunderstood and mistreated, much like the trans community. We loved all the finale performances, but Sasha's was truly in its own league where her years of experience and immaculate pageant training really showed. We got to see the full extent of her talent with her creativity fully unleashed, and her progression into the top two was a no-brainer.
In the Current Political Climate, Sasha's Win Makes a Statement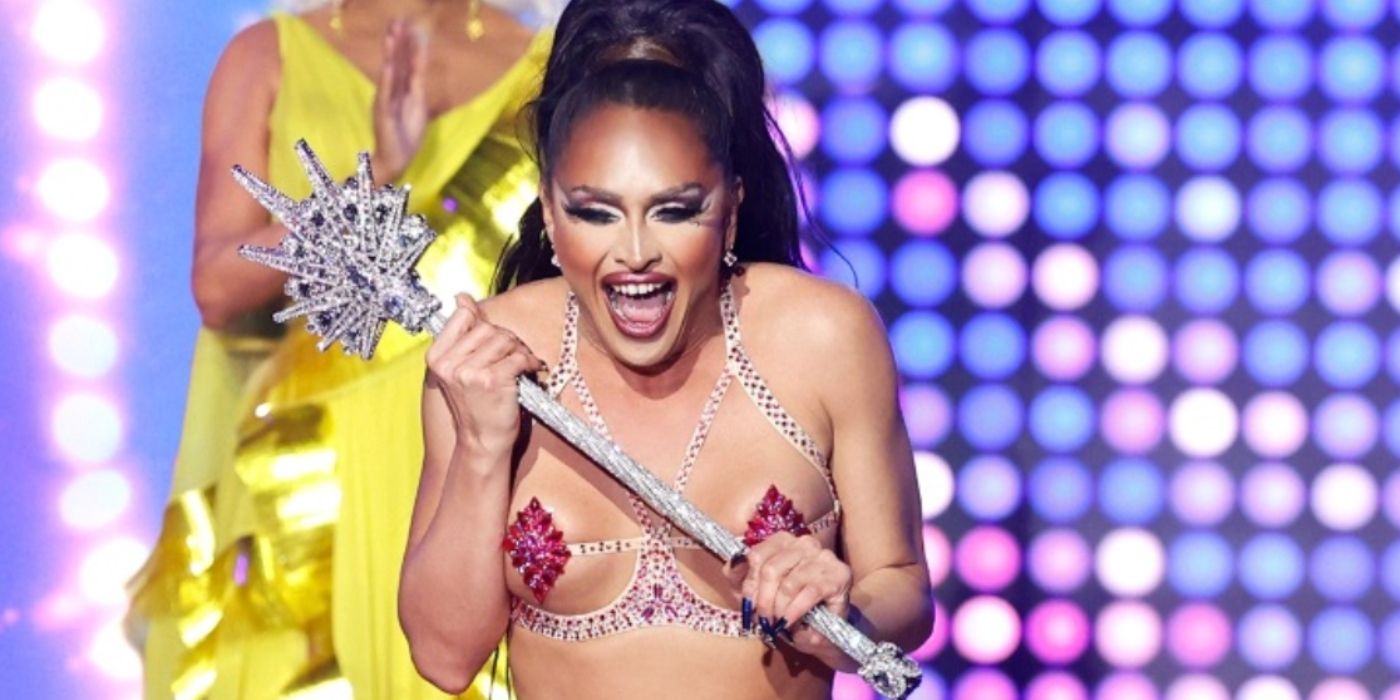 For many years, Sasha was shut out of competing on RuPaul's Drag Race due to the show's refusal to cast openly transgender contestants. Luckily, the show has come a long way since then, especially in the last few years — Season 13 welcomed the show's first trans man to compete, whereas Season 14 featured a record-breaking number of five trans contestants, with trans femme queen Willow Pill going on to win. Sasha's win emphasizes the show's evolution to become a more inclusive platform for LGBTQ+ individuals, but beyond this, it also makes a statement in the current political climate.
2023 has seen a wave of anti-drag and anti-trans bills introduced across the country at the hand of conservative legislators. Anti-drag bills mostly concern the performance of drag in the presence of children, due to misconceptions about drag being inherently sexual. In March, Tennessee passed Senate Bill 3 into law, which bans "adult cabaret performance" in front of minors, including "male or female impersonators." This is in spite of the fact that there are many child-friendly drag events, such as Drag Queen Story Hour. On top of this, hundreds of anti-trans bills have been introduced, with 44 currently passed — these generally restrict trans people's "healthcare, education, legal recognition, and the right to publicly exist."
In the face of this moral panic, crowning Sasha Colby — who is also the first Native Hawaiian to be cast — makes a point of how important it is to celebrate trans individuals and not cave to transphobic rhetoric. Sasha represents both the drag and trans communities; she has expressed how she is "the embodiment of what they want to eradicate." Performing almost-naked in the top two lip sync was a deliberate retaliation to those that try to censor and police trans people's bodies. Upon her coronation, Sasha's crowning line was "this goes to every trans person, past, present, and future, because we are not going anywhere" — well said, we think.
All four finalists in the RuPaul's Drag Race finale were outstanding. Each delivered in challenges, with Mistress Isabelle Brooks making a strong impression with her narration and constantly entertaining personality. Luxx Noir London consistently provided funny confessionals and jaw-dropping fashion, whereas Anetra was a power house lip-syncer who went on to become one of the biggest fan favorites from the franchise with her viral talent show song and catchphrase, "You Better Walk That Fucking Duck." That Sasha beat such stellar competition is a testament to what a strong queen and winner she is. She's already doing incredible things with her reign, having recently landed an interview with Vogue — and we can't wait to see how she uses her platform to amplify trans issues; meanwhile, her talent, charm, and story will continue to inspire many.