Warning: SPOILERS for the season 2 finale of American Auto!Season 2 of NBC's American Auto has come to a close and left a major surprise in its wake. In an effort to save their jobs, the C-suite members spent the latest batch of episodes attempting to raise Payne's stock price and recover from an extensive public relations disaster. With their time limit reached and sales still down, all hope seemed to be lost when "Judgement Day" rolled around. However, the solution to their problems presents itself in the finale's final moments.
Much to everyone's shock, the sales for the team's most internally hated model, the Pika, unexpectedly skyrocket upon its release. Despite the circumstances under which it was developed, the car's primitive functions end up being its greatest appeal. Although the show has not yet been renewed for a third season, the turn of events ensures that Katherine (Ana Gasteyer) and the rest of the C-suite will continue their work at Payne Motors if the network gives the green light.
RELATED: 10 Funniest American Auto Quotes
Ana Gasteyer chats exclusively with Screen Rant about the finale's final twist, how Katherine's investment in the automotive industry has evolved throughout the show, and her hopes for season 3.
Ana Gasteyer Breaks Down American Auto Season 2
Screen Rant: The team has been fighting to keep their jobs this entire season, and the Pika pulled through at the last minute. Do you think they're finally out of the woods?
Ana Gasteyer: Yes. A surprise rabbit out of a hat. Were you surprised?
I was extremely surprised. I didn't think it was going to end well for them.
Ana Gasteyer: That's great. I mean, honestly, when we read the script at the table read, it was a clever twist. I was kind of embarrassed because, obviously, we've been spending the entire season on the Pika and what a turd it is. It was such a great and believable twist—such a plausible twist, which was very satisfying.
Even before the sales started pouring in, Katherine finally showed some pride in the Pika and her part in creating it. Why did it finally hit her at this moment?
Ana Gasteyer: You know, I really think about this scene all the time, where Dori and Cyrus and I go for that drive. They've spent so much time in the cost-cutting phenomenon of that car. It has literally no shock absorbers—it's just a turd. It has like an old radio. We've had to film in it a bunch of times. It's hilarious. It's kind of like the Pacer of the new era. There was a scene where we're taking this ride and Dori is like, "This is going to be people's first car." And that's a real emotional relationship that you have with your first car. And it's so true. You remember your first car.

I get asked that question every other interview, "What was your first car?" as a lead of a show set in the automotive industry. She's like, "I think it's really cool, actually. I think it's cool to think of the first car even if it's a turd or a lemon." It's something that was affordable and within reach and identifies people's independence and early adulthood. It's just a cool moment, because it's a rite of passage situation. That's an incredible sales moment for her where she's like, "Wow. This is actually a car that will sell. It's a car that will be meaningful to people in the long run. It's a car that I thought of and the idea kind of coalesces in a really nice way."

And then I do love that the twist of it is, again, as Justin does so incredibly well, a very socially pertinent and timely concept that people are exhausted by technology, that we're overwhelmed by all the choices made available, and that we're tired of being manipulated. And the direct marketing aspect of just going on a website and buying a car is a revelation economically.
This feels like a major step for Katherine, as well, in terms of truly embracing the product she's selling. Originally, she didn't know anything about cars, and she didn't care to know anything about cars. Do you think that's changing now?
Ana Gasteyer: I definitely do. I think that season 1 was very much about new leadership and someone coming in who's going to imprint her own personal stamp and get out with her stock options. In the pilot, Sadie says to me, "Why are you into it?" She was like, "Oh, two words—the money." The stock options. That's it. She wants to vest and leave and that was really a big theme in season 1. Season 2, as soon as Katherine martyred herself on behalf of the other C-suite members and said, "Don't fire me, let me get the stock price up and hold on to my team."

I mean, she's a selfish martyr. She reminds them constantly that she martyred herself, but it was an altruistic act. It was an act on behalf of her team. The show shifted from Katherine against the team to the team against the world. And that's just a nice "us against them" dynamic. It's one that's more comfortable for me, personally, as a human and as an actor and a performer. It's an ensemble show. It's not perfect, and we're a ragtag team for sure.

But the stock price, the board, the public opinion, the press, all of the variables that come into it make it—let's face it—it's very hard to root for people in the C-suite. They're making decisions that are really gross a lot of the time. I think it allows for humanity in there, and also allows us to laugh at them. They're still in the C-suite, but you can punch up a little bit more comfortably, I think, rather than just sitting around watching a bunch of unlikable humans.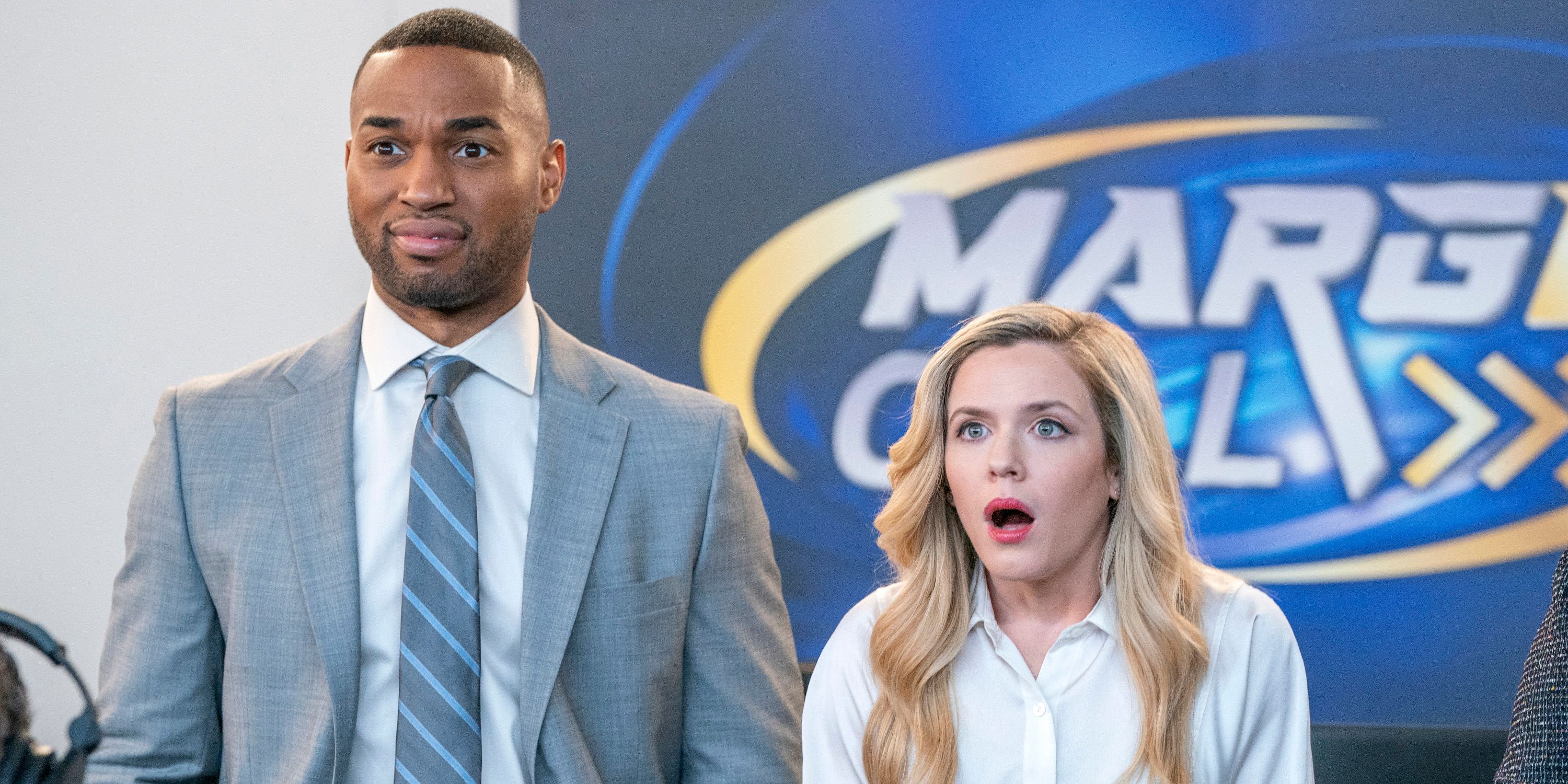 Yeah, there definitely is a flip here. Spitzer's previous shows center around essential workers and underpaid employees. These characters work at the executive level of a massive corporation. Do you think it's a good idea to approach the story from that perspective this time around?
Ana Gasteyer: Definitely. At the end of the day, it's humans making decisions about humans. I just think, comedically, people that have been compromised by power and money make decisions that are questionable and questionable things are funny. And again, what Spitzer does, as you say—I know all the journalists have noticed this, but it's something I'm just so impressed by on the show.

He continues to take these really complicated social matters and relevant current affairs or current topics and throw them into grenades into the middle of this obnoxious group of rich people and see how they play out. And so things like the episode that dealt with company policy surrounding out-of-state abortion, and casting the perfect socially and politically correct commercial, and calling out corporate culture for trying to do the right thing, but kind of not doing the right thing. He's really good at it. Really, really good at it.
Now that Wesley is the majority shareholder of the company, could that change the dynamic between him and Katherine going into a hopeful third season?
Ana Gasteyer: I'm sure it will come to play significantly in season 3. That will be fun. It's funny—it was something that was laid out in the pilot so clearly that he was overlooked for the role as a family member. He's clearly there because of nepotism. He clearly would have inherited the throne. He's clearly a disaster of an employee. As people say, throughout, like, "What do you do here?" He's just kind of the figurehead. So now that he is the majority shareholder, we will have some Succession-style antics, I'm sure. That, and I do think that the fact that they may be actually in a successful reign when she says at the end of the finale, "When you have power, you can do whatever you want." I think it'll be fun to watch how arrogance comes to rear its ugly head, as well.
A few Superstore actors have guest starred so far this season, and Jon, of course, is a part of the main cast, but is there anyone else from Spitzer's previous sitcoms that you hope you get a chance to act with on the series?
Ana Gasteyer: Everybody who's come back has been incredible. Ben Feldman was obviously amazing on the show. Of course, it'd be lovely to have America [Ferrera], Mark McKinney, who was an old friend from Saturday Night Live, Nico—honestly, any of them. That's a great cast. And again, I think people who have a relationship that close with Justin just bring a lot to the party.
Thank you so much for chatting with me. I loved the finale. I'm really hoping for a third season.
Ana Gasteyer: Thank you for saying that. Same! And people can catch up on Peacock. That's the thing that's nice. Because again, as you know about Justin as a writer, I love these seasons because they're arced. There's a whole story being told [in] 10 episodes and 13 episodes. So you can catch up on everything and watch the finale.
About American Auto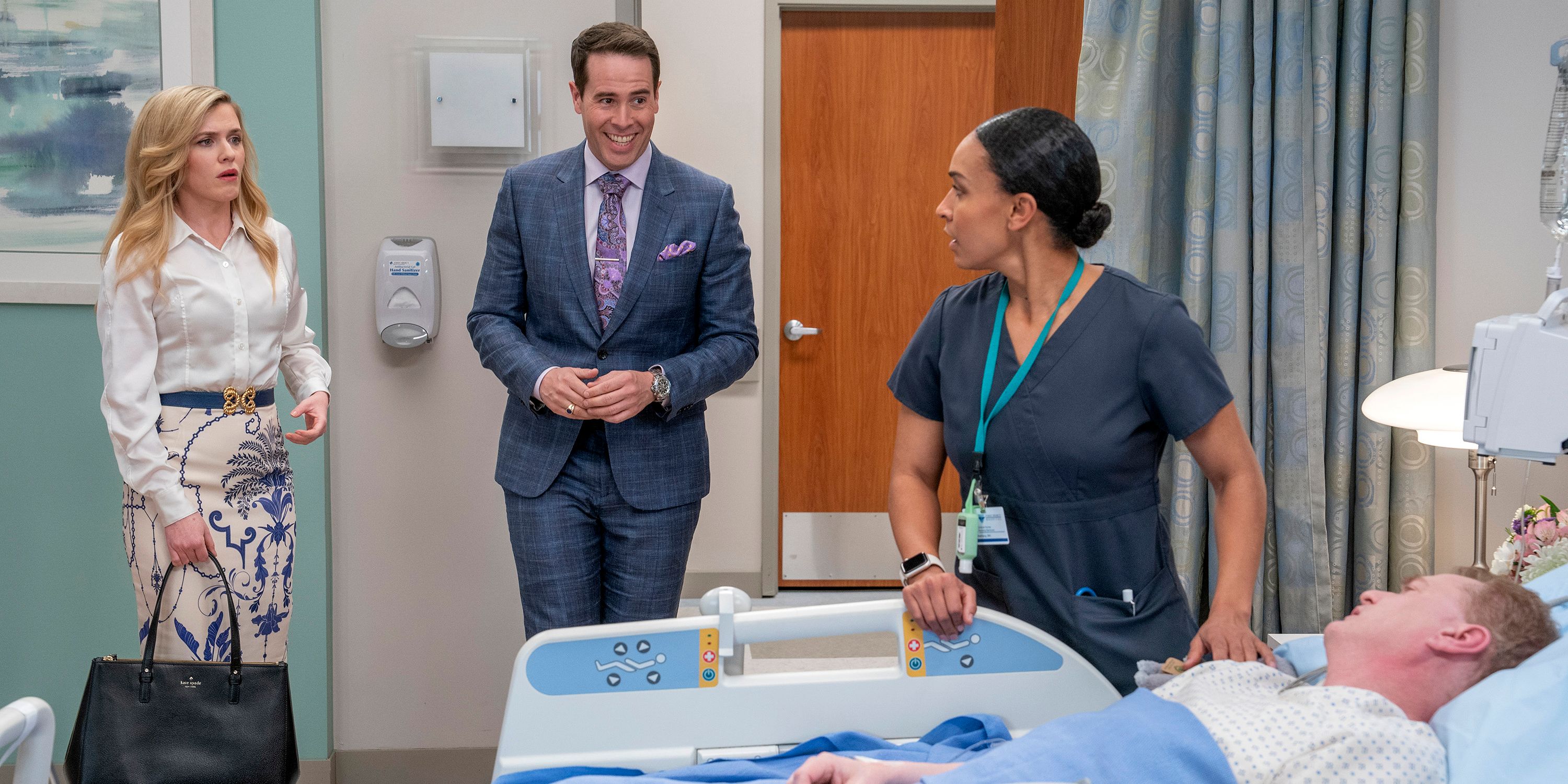 From the creator of "Superstore" comes a new workplace comedy that takes the wheels off the automobile industry. Set in Detroit, the corporate executives of Payne Motors are at a crossroads: adapt to the changing times or be sent to the junkyard. Shaking things up is the new CEO, whose leadership, experience and savvy is only slightly offset by her complete lack of knowledge about cars. Luckily, her team has some of the best minds in the business – when they aren't fighting or trying to outwit each other. From the corporate office to the factory floor, the crew of Payne Motors is driving home the laughs.
Check out our other American Auto interviews here:
All episodes of American Auto are currently available to stream on Peacock.