6. Mr King (Series 7, Episode 2)
This episode is essentially an homage to a classic British horror film, squeezed into half an hour and set in a primary school classroom – even more creepy children means even more squirming horror for the audience. The big reveal of what's really going on is, of course, the episode's twist, but if we tell you it involves a "Mr King" (hence the episode title), a disappearance, inappropriate nudity, and a festival, you might be able to guess.
The episode also, like every other episode of Inside No. 9, features a slightly creepy-looking hare statue, which is placed somewhere in the background in every episode (except for Series 4's 'Tempting Fate', in which it plays a major featured role). The hare in 'Mr King' is in the Headmaster's office, seen while Shearsmith's character is looking for evidence. It is the cherry on top of a masterful re-make of a classic, demonstrating just how perfectly Inside No. 9 as a series and this particular story fit together.
5. Cold Comfort (Series 2, Episode 4)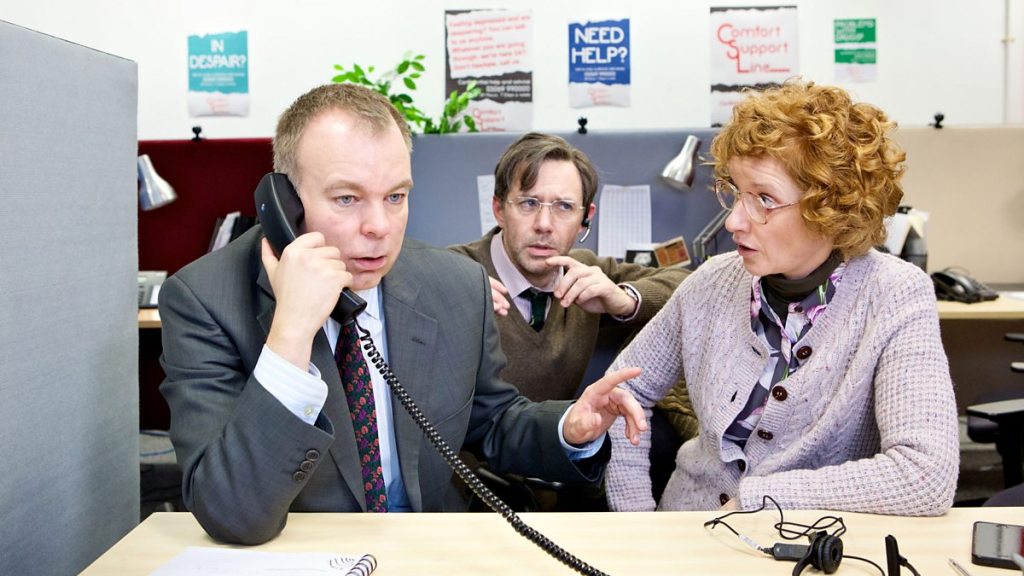 Like many of the entries on this list, 'Cold Comfort' does something very clever with its format. In this case, the entire episode is apparently captured on CCTV cameras, found-footage-style. The audience sees footage from four cameras at all times – this really rewards a re-watch once you know what's going on and can see it happening (subtly) in other camera feeds than the focus of the scene.
But this is about so much more than just a clever-clever set-up. This episode plays into a common source of anxiety – the fear that saying the wrong thing in a moment of frustration could have serious consequences. The main characters, volunteers at a crisis support line, are all trying to help people in an emotionally exhausting role while trying to hold themselves together too. The core of the story is quietly devastating, and that is the real power of this Shearsmith and Pemberton-directed episode.
4. Bernie Clifton's Dressing Room (Series 4, Episode 2)
They say "write what you know", and if there's one thing Pemberton and Shearsmith know it must be the life of a comedy double act. Cheese/Drake and Crackers/Shelby do a very different type of comedy than Shearsmith and Pemberton, being old variety entertainers, but the push and pull of a long comedy partnership must be something these two know well. This episode focuses almost entirely on Pemberton and Shearsmith's characters and it is both a love letter to, and a critique of, Cheese and Crackers' old-fashioned shows, while also, of course, being very funny.
This is also the only other episode that could rival '12 Days' for bittersweet emotional pull. The final act revelation turns the episode on its head and demands an immediate re-watch, and if you make it through dry-eyed, you might just be a robot. This episode is about all the things this series as a whole is about – comedy, relationships, life, and death.